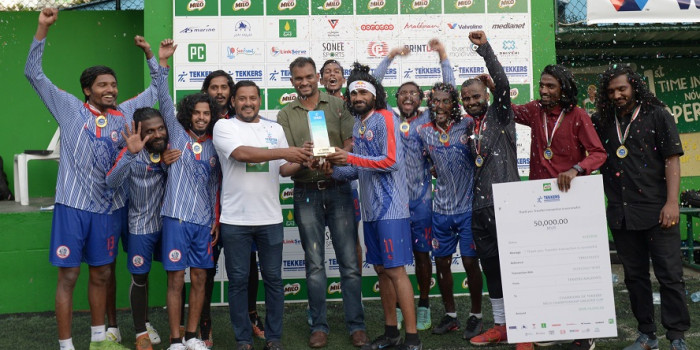 Tekkers Milo Championship 2021 Greater Male Cup Concludes, Masodi Sports Club Crowned Champion
Tekkers Milo Championship 2021 Greater Male Cup Concludes, Masodi Sports Club Crowned Champion
Estimated time to read the article : 3 min, 48 secs
Tekkers Milo Championship Greater Male' Cup 2021 has concluded on the 5th of October 2021 (Monday) with Masodi Sports Club winning the title of champions. The final game was played between Masodi Sports Club and Deadmaus at the Teenage Futsal ground kicking off at 4:30 pm.
The chief guest for the final match and awarding ceremony was Nestle representative to Maldives Mr. Dhishan Vijayavardhana. He accompanied by Managing Director of Print Lab and Honorary Consul of Czech Republic in the Maldives His Excellency Mr. Madeeh Jamal as well as Mr. Ismail Shareef, Operations Manager at Al Shaali Marine Maldives representing partners of Tekkers.
32 teams took part in this tournament displaying some of the finest talents of futsal in the greater Male' region. Masodi Sports took the lead early in the final and finished the game 4 – 0 denying any chance for Deadmaus to score. Masodi was awarded cash price of MVR 50,000 as champions while Runner-ups Deadmaus took home MVR 25,000. Both Winners and runner ups medals and trophies were handed to the players by Nestle representative to Maldives Mr. Dhishan Vijayavardhana. The final award ceremony saw outstanding players receiving individual accolades as well. Tekkers awarded Top 5 players of the tournament: Ibrahim Atheeg of Noena, Ibrahim Imraah and Ahmed Riyushan of Deadmaus, Inaan Ahmed of Ayyani FC as well as Mohamed Vilf of Masodi Sports club. Yalsan Mohamed of Masodi Titans was chosen as the best young player of the tournament while Masodi Sports Club manager Ahil Ali was chosen as the best manager of the tournament. Team inguraidhoo was awarded fair play team of the tournament and Ahmed Riyushan of Deadmaus was awarded playmaker of the tournament. Ibrahim Imraah of Deadmaus took home the title of Top scorer and Abdulla Shaffan of Masodi was the overall best player of the tournament.
The Platinum Partner and title sponsor for the tournament is Nestle Milo. Gold Partners of the comeptition are Al Shaali Marine Maldives, Maldives Transport and Contracting Company (MTCC), Veligaa Hardware, Maldive Gas, Ooredoo Maldives, Maldivian, Valvoline, Medianet & Personal Computers. Silver Partners include Sun Front, Sonee Sports, Copier Plus, Link Serve, Print Lab, Dhivehi Insurance and Event Maldives. The tournament is endorsed by the Maldives Sports Commission as well as the Football Association of Maldives.
Tekkers Great Male' Cup will be followed by "Tekkers Resort Cup" which will engage the tourism sector of Maldives and is set to take place in the month of November 2021. Tekkers will host the "Tekkers Maldives Cup" which is focused to all the islands in Maldives. The winning team will be crowned as the National Futsal Champion Island with prize money along with the championship medals and trophies.