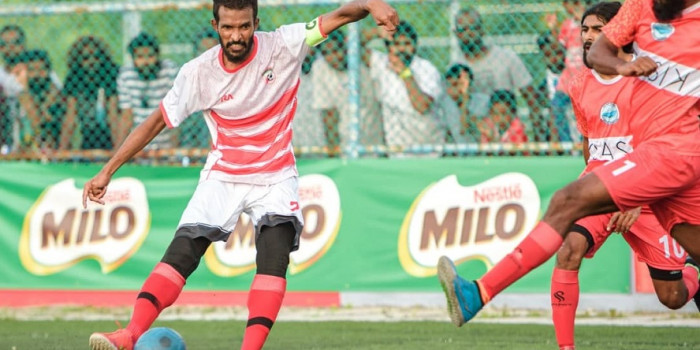 Tekkers Maldives Cup to continue after Ramadan
Tekkers Maldives Cup to continue after Ramadan
Estimated time to read the article : 2 min, 19 secs
Tekkers Milo Championship Maldives Cup is set to continue again after Ramadan. This a futsal tournament focused on all the islands in the Maldives. The cup will be played in almost all the atolls in the country. This tournament aims to give a chance for the amazing players within the country to shine in the spotlight.
The tournament is divided into 4 Zones, and so far 3 Zones have been completed and a Noth Champion has been crowned. The North Champion, Hdh. Kulhudhuffushi has booked a spot in the final of the tournament. The other finalist will be decided between the Zone 3 and Zone 4 winner. Recently, the Zone 3 stage was completed with M. Mulak claiming the title. They will face off against Zone 4 winner in the semi-final to gain the second spot in the grand finale.
Zone 4 is set to commence after Ramadan. The atolls in Zone 4 are Thaa, Laamu, Gaafu Alif, Gaafu Dhaal, Gnaviyani, and Seenu. All these atolls will compete to find out the Zone 4 winner.
The champions of the Tekkers Milo Championship Maldives Cup will receive a prize money of MVR 50,000/- while the tournament runner-up will get a prize money of MVR 25,000/-. Along with this, different awards such as best young player, best playmaker, etc, are awarded in each atoll.
The Title Sponsor of the Tekkers Maldives Cup is Milo. The Gold Sponsors of the tournament are AS Marine, MTCC, Veligaa Hardware, Maldives Gas, Personal Computers, Ooredoo, Valvoline, Maldivian, and Medtech. The Silver Sponsors are Sunfront, LinkServe, Sonee Sports, CopierPlus, PrintLab, Event Maldives, Dhivehi Insurance, and Dhauru.