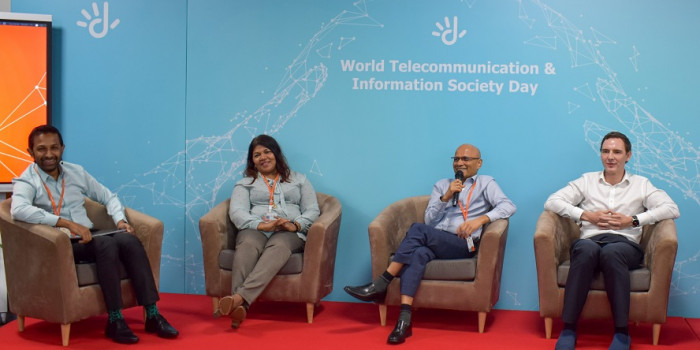 Dhiraagu celebrated World Telecommunication & Information Society Day 2022
Dhiraagu celebrated World Telecommunication & Information Society Day 2022
Estimated time to read the article : 2 min, 8 secs
To mark the World Telecommunication & Information Society Day (WTISD), Dhiraagu hosted a Panel Discussion for University/College students at Dhiraagu Head Office.
This special Panel Discussion was led by CEO & Managing Director, Mr Ismail Rasheed along with some of the leadership team members. The main objective of this session was to engage with young people and share information on the Dhiragu's role in empowering digital communities across and enriching lives of the people living in the Maldives. Dhiraagu strongly believes they are future leaders of this nation who will be leveraging the digital technology in shaping the future. Speaking at the session, he took the students through the journey of Maldives' telecommunication and the future vision for the company.
Reflecting on this year's WTISD's theme, "Digital technologies for Older Persons and Healthy Ageing", Mr. Ismail ensured that all Dhiraagu's services are developed to cater to all age groups to enjoy and allow digital technology to enrich their lives.
Together with CEO & MD, Dhiraagu's Chief Technology and Information Officer, Mr Mohamed Musad, Chief Financial Officer, Robin Wall and Director of Corporate Affair, Athifa Ali joined the panel discussion on Empowering Digital Communities. The session was moderated by Dhiraagu's Senior Manager Brand and Marketing Communications, Mirshan Hassan.
Dhiraagu continues to play a pivotal role in enriching and uplifting customers' everyday digital experience by bridging the digital divide and empowering communities.