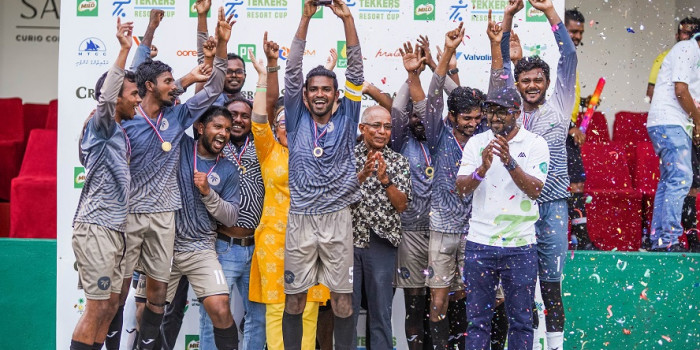 Ozen-Life Maadhoo: Champions of South Kaafu
Ozen-Life Maadhoo: Champions of South Kaafu
Estimated time to read the article : 2 min, 7 secs
Yesterday, Tekkers Maldives concluded the South Kaafu zone of Tekkers Resort Cup. After a very heated final match against host's Hardrock Hotel Maldives, Ozen-Life Maadhoo grinded their way to victory in the final moments.
For the South Kaafu finale, special guests from various parties joined together to watch the game. Managing Director of Crossroads Maldives and Hardrock Hotel, Mr. Unan Tolga attended the game representing Hard Rock Hotel Jersey along with other directors.
In the first half of the final match, Ozen-Life Maadhoo took a 2-goal lead by the help of star players Jadullah Ahmed and Mohamed Sirukhaan. It was almost like team Maadhoo felt no pressure from the home fans of Hard Rock Hotel. In the final half, Hardrock hotel took control of the game and top scorer of the tournament Aiman Ilyas made it all square for Hard Rock. Minutes later Maadhoo took the lead and inspired the whole team to score another goal.
Ozen Life Madhoo's Jaadulla Ahmed wins the finals man of the match. The top 5 players of South Kaafu are Ibrahim Rafah from Waldorf Astoria Maldives Ithaafushi, Mohamed Mazeen from Taj Exotica Maldives, Mohamed Thashmeen from Hardrock Hotel Maldives, Aiman Ilyas from Hardrock Hotel Maldives and Ahmed Nisaal from Hardrock Hotel Maldives. The best player of the tournament goes to Mohamed Shirukhaan from Ozen Life Maadhoo for his amazing performances. Aiman Ilyas wins the top scorer by netting 12 goals in only 5 matches