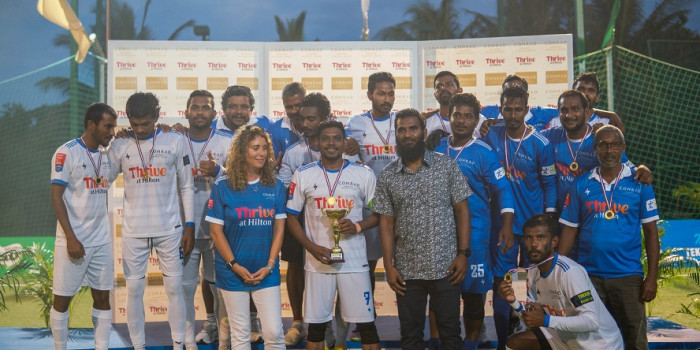 Conrad Maldives Rangali Island: Champions of Alif Dhaal
Conrad Maldives Rangali Island: Champions of Alif Dhaal
Estimated time to read the article : 2 min, 2 secs
Yesterday, Tekkers Maldives concluded the Alif Dhaal zone of Tekkers Resort Cup. After a comfortable final match against neighbor Sun Island Maldives, Conrad Maldives dances their way to victory without no pressure.
For the Alif Dhaal, Conrad Maldives and Sun Island's senior members joined together to witness the showdown. The greatest footballer of the nation, Ali Ashfaq also came as a special guest for the final to handover awards and match ball.
In the first half of the final match, Conrad Maldives took a 3-goal lead by the help of star players Shifah and Azim. From the support of passionate home fans, Conrad Maldives felt no difficulty from the away fans. In the final half, Sun Island Maldives managed to get two goals after Conrad extended the lead with an amazing long range shot from the top scorer Adam Azim.
Conrad Maldive's Adam Azim wins the finals man of the match. The top 5 players of Alif Dhaal are Hussain Zadhy from Conrad Maldives, Adam Azim from Conrad Maldives, Ali Umair from Conrad Maldives, Ahmed Aiman Saeed from Sun Island Maldives and Mayaadh Saeed from Sun Island Maldives. The best player of the tournament goes to Hussain Shifaah from Conrad Maldives for his amazing playmaking and being a great teamplayer. Adam Azim wins the top scorer by netting goals in every game he played in the tournament