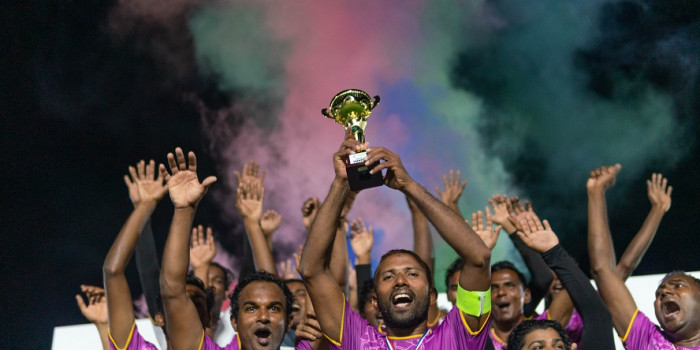 Tekkers Maldives ended the Noonu Atoll zone of Tekkers Resort Cup with Liverpool youngster Harvey
Tekkers Maldives ended the Noonu Atoll zone of Tekkers Resort Cup with Liverpool youngster Harvey
Estimated time to read the article : 3 min, 9 secs
Tekkers Maldives ended the Noonu Atoll zone of Tekkers Resort Cup with one of the most promising players around the world the Liverpool youngster Harvey Elliot. After a tense final match Soneva Jani got the win after a long nerve-racking penalty shootout.
In the first half of the final match, it was a very much Soneva Jani's game as they started strong to score in the opening minutes. Then near the end Soneva Jani managed to extend their lead. With the support of passionate fans, Soneva Jani seemed to get an extra boost of energy.
In the Second half, Robinson came out with a strong will as they managed to one back via a stunning long-range effort by joint top scorer Ahmed Shanweel of Robinson Noonu. Soneva Jani however, extended the lead with a goal from their number 21 Zalyshan Hassan. However, that was not enough to dampen the spirits of Robinson Noonu as they fought back and equalized through efforts from their number 6 Mohamed Anaan and joint top scorer Ali Afsal.
On to penalties and it was a tight affair as players from both sides scored their respective penalties until a chance appeared as Robinson Noonu missed their 5th penalty, however Soneva Jani could not capitalize as the Robinson Noonu keeper managed to save the next one. It was until the 9th penalty that there was a breakthrough with Soneva Jani's keeper saving the penalty of Hassan Maaidh of Robinson Noonu. Then the man of the moment, Ahmed Shifau stepped up to score the penalty to win them the match.
Soneva Jani keeper Ilyas Abdul Hakeem wins the finals man of the match with his great display during their penalty shootout. The top 5 players of Noonu Atoll are Hassan Afsal (Robinson Noonu), Ali Shiyaz (Soneva Jani), Ilyas Abdul Hakeem (Soneva Jani), Ali Ahnaf (Siyam World) and Ahmed Shamweel (Robinson Noonu). The Noonu Atoll Player of the Tournament was Ahmed Shifau (Soneva Jani) after leading his team to victory in the final. The top scorer was shared between fellow teammates Ahmed Shamweel and Hassan Afsal (Robinson Noonu) with 6 goals each.