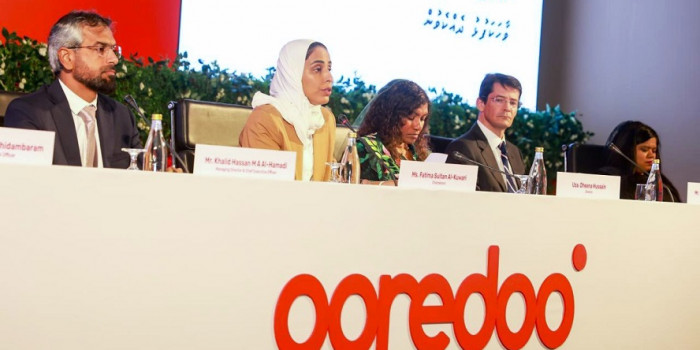 Conclusion of Annual General Meeting Held in 2023
Conclusion of Annual General Meeting Held in 2023
Estimated time to read the article : 2 min, 16 secs
The Annual General Meeting ("AGM") of Ooredoo Maldives Plc. (the "Company") was held last night (Wednesday, 8th March 2023) at 20:30 hrs. Shareholders participated at the AGM both physically and virtually; physically at the Event Hall of Crossroads Maldives and virtually through the Online Meeting Management System "FahiVote" of the Maldives Securities Depository Company Pvt Ltd ("MSD").
The AGM was attended by 125 Shareholders, with 90 Shareholders being present in person and another 30 Shareholders being present by proxy. The total number of shares represented at the AGM was 135,649,994 (hundred and thirty five million six hundred and forty nine thousand nine hundred and ninety four) shares which represents 91.78% of the total issued shares.
According to the Agenda of the AGM, the Shareholders approved the Minutes of the Annual General Meeting held in 2022 (the Annual General Meeting held on Monday, 7th March 2022), the Audited Financial Statements with the Auditor's Report for the year 2022, the Company's Directors Report for the year 2022, the appointment of PricewaterhouseCoopers ("PwC") as the Auditors for the year 2023 and their remuneration. The Shareholders also approved MVR 3.04 (Three Rufiyaa Four Laari) per share as the dividend for the year 2022.
We would like to extend our gratitude and appreciation to our Shareholders for their continued support and confidence in us. As a community focused company, we will continue our efforts in enriching the lives of our communities. We are committed to continue providing world class, innovative communications products and services to our customers enabling a digital lifestyle, while bringing world class technologies and innovative solutions.