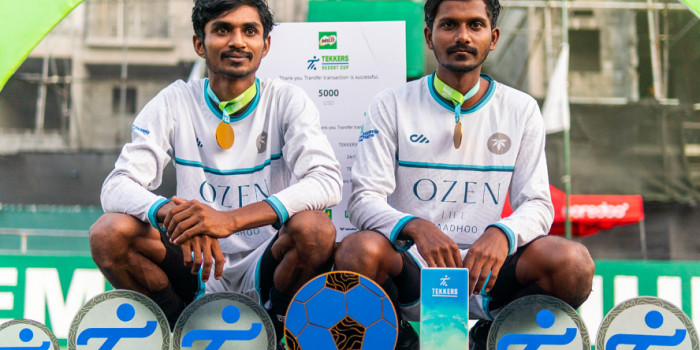 Tekkers Resort Cup to start in May 12th
Tekkers Resort Cup to start in May 12th
Estimated time to read the article : 2 min, 6 secs
After running a very successful competition the previous year, Tekkers Maldives is set to travel to Kandima Maldives on May 12 to begin the second edition of Tekkers Resort Cup 2023.
As more than 60 teams are anticipated to participate in this year's competition, the enthusiasm around the Maldives' committed futsal community is constantly building. Games against strong teams from 8 different atolls (South Kaafu, North Kaafu, Alif Dhaal, Baa, Lhaviyani, Noonu, Raa, and Dhaal) are slated to take place in the coming months.
Without a doubt, with more than 600 players, we will be able to see brilliance from such a large group of players
Since many teams will be coming from the Kaafu Atoll, they are divided between the South Kaafu and North Kaafu zones. The South Kaafu Atoll will be hosted by the beautiful Crossroads Maldives, while the North Kaafu Atoll will be hosted by the Kurumba Maldives.
We are all anticipating the fixtures for the Noonu Atoll at the Amazing Siyam World and the Baa Atoll at the Royal Island Resort. The Alif Dhaal atoll will once more be hosted by Conrad Maldives. For the time being, Raa Atoll will be hosted by Joali Maldives.
The winners of the competition will each earn a prize of USD 5,000, while the runner ups will receive an award of USD 2,500. Zone Champions and Atoll Champions will get medals and trophies, as well as awards for the best manager, top five players, and most promising player.