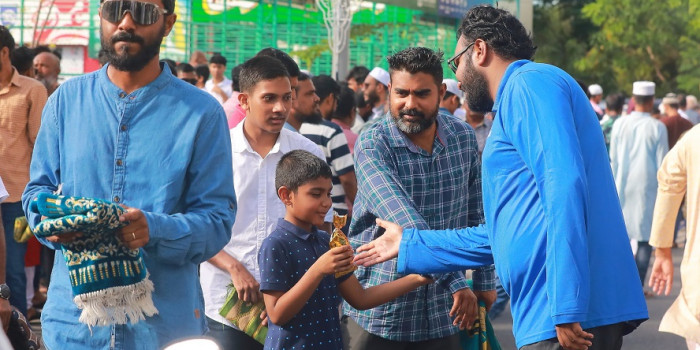 Villa College Business Society successfully conducts a gift distribution event on the occasion of Eid Al Adha
Villa College Business Society successfully conducts a gift distribution event on the occasion of Eid Al Adha
Estimated time to read the article : 1 min, 26 secs
Villa College Business Society in collaboration with Faculty of Business Management of Villa College successfully conducted a gift distribution event on the occasion of Eid Al Adha.
The gift distribution event was held after the Eid prayers near the King Salman Mosque area, where volunteers of Villa College Business Society actively participated in distributing gifts to the general public.
Vice President of Villa College Business Society, Ahmed Uwais Mohamed stated that the purpose of hosting such an event is to revive the tradition of distributing gifts among Maldivians on special occasions such as Eid and to encourage unity among one another.
General Secretary of Villa College Business Society, Aminath Sana Ali stated that gifts were distributed to more than 200 people from different ages. She also thanked the Villa College management for their support and all staff and volunteers involved in making this event a success.
Villa College Business Society highlighted that they received a huge support from the public for this event.