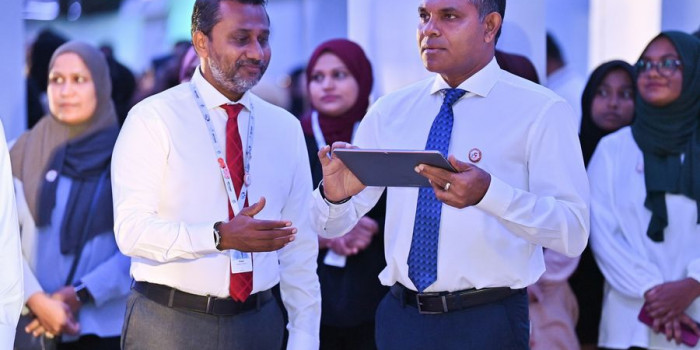 A Day in Cardiac
A Day in Cardiac
Estimated time to read the article : 2 min, 28 secs
ADK Hospital kicks off its commemora on of Cardiac Surgery Day with a spectacular Opening Ceremony held on August 8th. The event marks a significant milestone in the hospital's journey of five years of excellence in comprehensive cardiac care.
The Opening Ceremony, which took place at Wellness Club, began with a solemn recita on of the Holy Quran, se ng the tone for the day's proceedings. Dr. Shafiu, head of the Cardiac Department, delivered a heartening Opening Remark. The audience was cap vated by a dynamic presenta on highligh ng the incredible milestones atained by the Cardiac Department over the past five years.
The Managing Director, Mr. Ahmed Afaal, took the stage to deliver an inspiring speech, shedding light on the hospital's unwavering commitment to advancing cardiac care and enhancing pa ent outcomes. A pivotal moment of the ceremony arrived with the launch of the much-an cipated Cardiac Pa ent's Handbook, a valuable resource designed to empower pa ents with knowledge about their cardiac health.
Chief Guest, Vice President Faisal Naseem graced the event with their presence, sharing insigh ul thoughts and perspec ves on the significance of Cardiac Surgery Day. The ceremonial cu ng of the Cardiac Day Cake symbolized the unity and camaraderie that define ADK Hospital's journey in cardiac care.
Looking forward, ADK Hospital has an engaging agenda planned for the subsequent days. August 9th will witness engaging sessions tailored for Medical Officers, Medical Students, and Nursing Students, offering them valuable insights into the evolving landscape of cardiac care. On August 10th, ADK Hospital will extend its outreach to A-level Science Students, aiming to inspire the next genera on to pursue excellence in cardiac health.
-- ADK Hospital