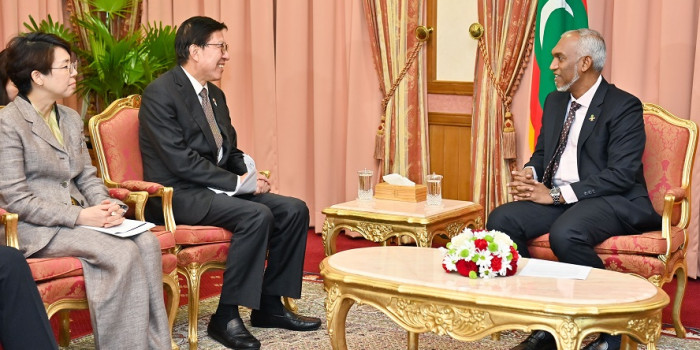 The Mayor of Busan Metropolitan City pays a courtesy call on the President
The Mayor of Busan Metropolitan City pays a courtesy call on the President
Estimated time to read the article : 1 min, 39 secs
Hon. Park Heong-Joon, the Mayor of the Busan Metropolitan City in the Republic of Korea, paid a courtesy call on H.E. President Dr Mohamed Muizzu on Saturday morning at the President's Office.

During the courtesy call, President Dr Mohamed Muizzu extended a warm welcome to the Mayor of Busan Metropolitan City and expressed his gratitude for the Mayor's participation in the Presidential Inauguration as the Presidential Special Envoy. Speaking at the meeting, Mayor Park Heong-Joon offered his congratulations and conveyed best wishes on behalf of His Excellency Yoon Suk Yeol, the President of the Republic of Korea, to President Dr Muizzu upon his inauguration.

The meeting served as a platform for the President and the Mayor to discuss areas of mutual interest, including potential cooperation in various sectors such as public housing, construction, infrastructure development, and human resource development. They also explored the possibility of facilitating higher education opportunities, promoting tourism, advancing technology, improving governance, strengthening security cooperation, and easing trade and investment opportunities.

The meeting concluded with the President and the Mayor reaffirming their commitment to enhancing cooperation and collaboration between their respective offices.