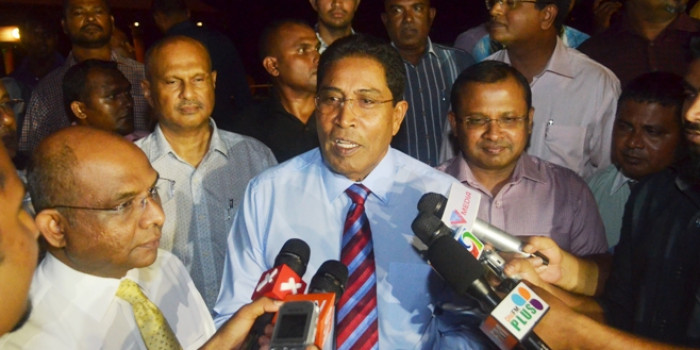 Gasim Ibrahim meets Sri Lankan PM
Gasim Ibrahim meets Sri Lankan PM
Estimated time to read the article : 1 min, 46 secs
Jumhooree Party leader, Gasim Ibrahim has met Sri Lankan Prime Minister Ranil Wickremesinghe
.
Kinbidhoo constituency MP Abdulla Riyaz, former Speaker, Henveiru constituency MP Abdulla Shahid, Deputy Leader of the Jumhooree Party Dr. Hussein Rasheed and Male' City Mayor Mohamed Shihab participated were present during the meeting.

Addressing the press before their departure, Gasim Ibrahim said that, the purpose of the trip is to share information about events unfolding in Maldives, with the international community. He added that discussions will be held with ambassadors of other countries about strengthening democratic values in Maldives.

Gasim said that they are visiting Sri Lanka as many of the foreign embassies are in Sri Lanka. He said that many of the ambassadors and foreign diplomats will be met.

Gasim said that he will be returning sometime tomorrow after meeting the ambassadors and foreign diplomats from the EU countries, the US and other countries close to Maldives.

Abdulla Shahid said that he has been briefing the international community regarding the breaches of the constitution by the current government.

"Many of those organizations have gathered information that which the government is trying to hide from them. Government's attempts to hide them is becoming a failure," he said.