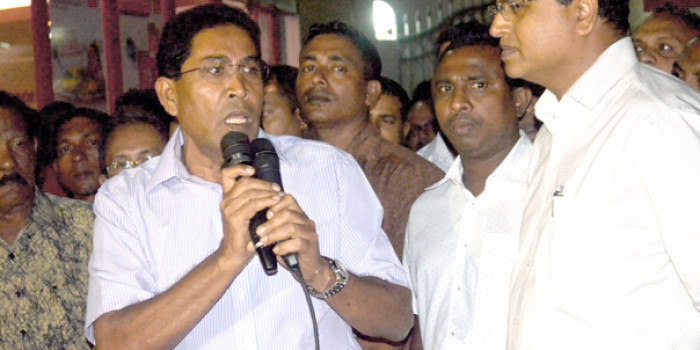 Gasim calls not to give room for civic disorder
Gasim calls not to give room for civic disorder
Estimated time to read the article : 1 min, 35 secs
Jumhooree Party leader Gasim Ibrahim has appealed all to not give any opportunity for civic disorder in the Maldives.

Gasim made this remark in a press briefing held following the Presidential Address. He expressed hopes that the President will listen to the pleas of the people regarding the government and will meet the demands of the people.

Gasim called the government for reconciliation with the opposition regarding the arrest of former Defence Minister Colonel (retired) Mohamed Nazim and former President Mohamed Nasheed. He said that the whole world knows that the charges against them are politically motivated.

The Jumhooree Party leader said that if sanctions are imposed then the country will be plunged into poverty.

He said that everything will come to a stop if sanctions are imposed. He said that this includes the job opportunities within development programs of the government.

Gasim said that Jumhooree Party and MDP are trying to save the people from being lead to poverty as there is a big possibility that sanctions might be imposed on Maldives if the government continues breaching the constitution.