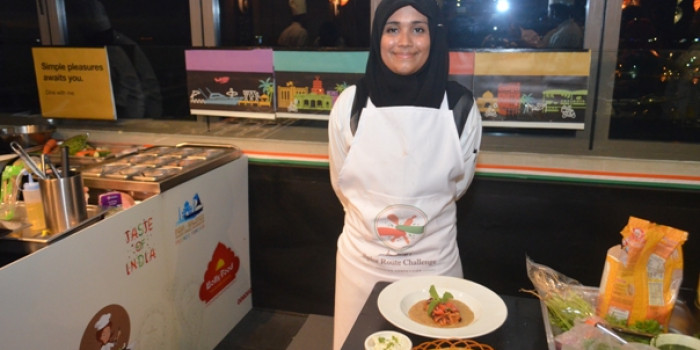 Aminath Abdu Rasheed wins India taste cooking challenge
Aminath Abdu Rasheed wins India taste cooking challenge
Estimated time to read the article : 2 min, 4 secs
Aminath Abdu Rasheed has won the cooking challenge "India taste", narrowly beating Aminath Maeesha with a two point lead. Aishath Shifana claimed third, while Mohamed Ashraq won fourth in the challenge.

First place winner was given a MVR 15,000 prize money and two way tickets for two passengers to either Chennai or Trivandrum, two nights' stay in Taj Exotica resort, dinner for six from Hotel Jen and a special commemorative apron.

Second place winner was awarded MVR 10,000 as prize money, two night's say in Taj Exotica and dinner for four from Hotel Jen. Third place winner was given MVR 5,000 as prize man and dinner for four from Hotel Jen. Fourth place winner was given MVR 2,500 and dinner for two from Hotel Jen.

The prizes were awarded by Indian High Commissioner Rajiv Shahare, Maldives National University Chancellor Dr. Mohamed Latheef, Hotel Jen General Manger Vathsala and representatives from Ooredoo, Maldivian and Taj Exotica.

The challenge was part of the celebrations to mark 50 years to the establishment of bilateral relations between Maldives and India. Chinese Ambassador to the Maldives, officials of Saudi Embassy and Belgium Ambassador were present to observe the challenge.

The spice route challenge featured culinary experts from India taking cooking workshops as well as the Bolly food festival held in Hotel Jen to showcase various cuisines from different parts of India.

Indian High Commission reported that they were interested in holding the event next year as well.