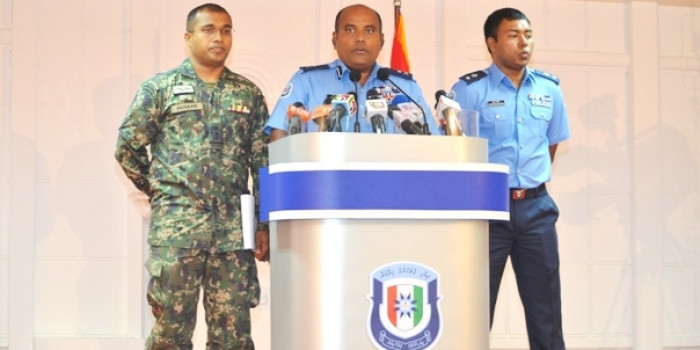 Hinbalhidhoo Weapons Stash details revealed
Hinbalhidhoo Weapons Stash details revealed
Estimated time to read the article : 2 min, 39 secs
Details of the recently discovered weapons stash at Hinbalhidhoo island lagoon have been revealed by the Maldives Police Service (MPS) and Maldives National Defence Force (MNDF).

The local media was briefed today at Iskandharu Koshi press conference, by Police Spokesperson ACP Abdulla Nawaz, Superintendent of Police Hamdhoon Rasheed and Captain Ali Ihsan from MNDF.

According to ACP Nawaz, search operations at the island was initiated due to information revealed by suspects arrested for the presidential launch "Finifenma" explosion case and the Police Intelligence.

He said that on 28th October, a 1 month search warrant was obtained by a joint task force of MPS and MNDF to search Himbalhidhoo island - located at Baa Atoll - which was then being developed as a tourist Resort by a joint venture between Guardian Pvt. Ltd. and Business Maldives Pvt. ltd.

Additionally, Nawaz said that currently the island was cordoned off and being searched with special equipment used to search for weapons.

Captain Ihusan said that while they were searching the island, additional intelligence received suggested to search the lagoon. The weapons were found in two bags around 40 to 45 meters under the entrance to the lagoon. The weapons showed signs of rusting and they believe the bags were sunk around 24 hours before their arrival to the island.

The seized weapons include; modern armaments, guns, bullets, explosives and their trigger mechanisms.

Remote detonation devices, plastic explosives, high explosive enhancers, remotes for IEDs and their supporting cables, nails, power sources, and enhancers were there in the bags found.

Captain Ihusan further said that they found one long range sniper rifle bullet, two M75 hand grenades, MP5 pistols and 43 9mm bullets for it, and an AK T65 full system.

The captain said that they were checking the source of these weapons,whether they were missing from the MNDF weapons godown.