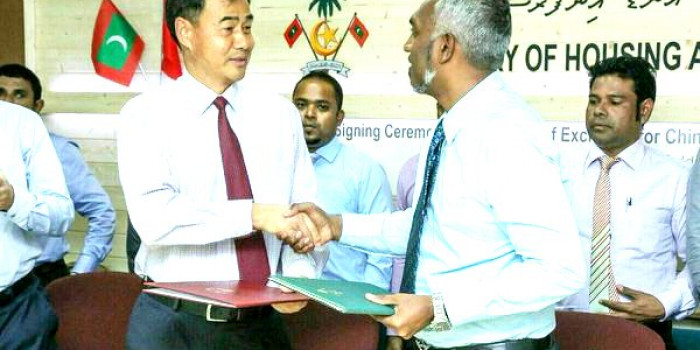 China, Maldives signs bridge agreement
China, Maldives signs bridge agreement
Estimated time to read the article : 1 min, 34 secs
China and Maldives has signed the agreement to initiate the "China Maldives Friendship Bridge".

The signing agreement was held Sunday afternoon in Housing Ministry. Housing Minister Dr. Mohamed Muizz signed the agreement on behalf of the Government of Maldives, while Chinese Ambassador Wang Fukang signed the agreement on behalf of China.

In his address given in the signing ceremony, Ambassador Wang assured that China will provide all assistance required to complete the project. He added that Maldives was a partner in the Chinese led "One Belt One Road" initiative and noted the participation between two nations across diverse sectors.

He said that the construction of the bridge can begin before the end of this year.

Dr. Muizz said that a Maldivian delegation will travel to China to oversee the bidding and work handover process, which is scheduled to take place on the 14th of this month.

Given the estimate pace of work, it is expected that the bridge will be available for public usage in 2017. In addition to providing technical and construction aid, China will also provide operational assistance.