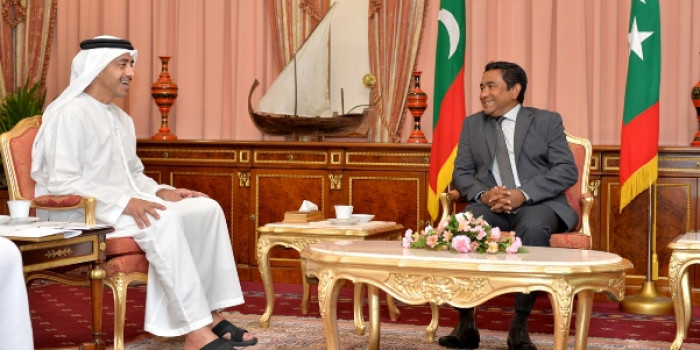 UAE Vice President invites Maldives to the "Expo 2020 Dubai"
UAE Vice President invites Maldives to the "Expo 2020 Dubai"
Estimated time to read the article : 2 min, 15 secs
Vice President and Prime Minister of the UAE, and the Emir of Dubai, Sheikh Mohammed Bin Rashid Al Maktoum has sent a letter of invitation to President Abdulla Yameen Abdul Gayoom, to participate in the Expo 2020 Dubai, to be held from 20th October 2020 to 10th April 2021. The letter was presented by His Highness Sheikh Abdullah bin Zayed Al Nahyan, Minister of Foreign Affairs of the UAE.

At a meeting held at the President's Office this morning, the President and the UAE Foreign Minister noted the close brotherly relations between the Maldives and UAE, and explored avenues for further cooperation.

President Yameen briefed the UAE Foreign Minister on the developmental projects being carried out by the Government. He especially highlighted the Government's endeavours in the areas of commerce and economics.

Speaking at the meeting, the Foreign Minister of UAE shared information on the innovative projects being carried out in the UAE. In this regard, he spoke on an integrated water desalination system the UAE was working on, which relies on renewable energy.

The Foreign Minister, on behalf of the President of the UAE, Emir of Abu Dhabi and the Commander of the Union Defence Force, His Royal Highness Khalifa bin Zayed Al Nahyan, also extended an invitation to President Yameen, to visit the nation at a time of earliest convenience.

The President was accompanied at the meeting by Minister of Foreign Affairs, Hon. Dunya Maumoon, Maldivian Ambassador to the UAE Abdulla Hameed, Under Secretary at the President's Office, Mr. Mohamed Naseer, and Deputy Minister of Foreign Affairs Ms. Fathimath Inaya.