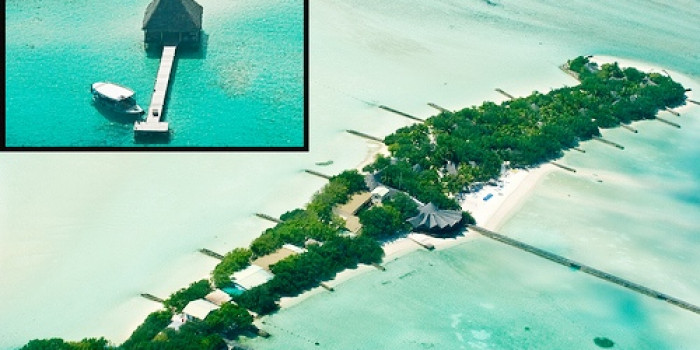 Gasfinolhu - World's first 100 percent renewable energy resort
Gasfinolhu - World's first 100 percent renewable energy resort
Estimated time to read the article : 3 min, 6 secs
The world's first ever exclusive 100 percent renewable energy-powered resort was unveiled to reporters of the Maldives today.

Gasfinolhu - is the only resort developed on 100 percent electricity derived from solar energy.

Speaking to the press, Resort Owner Champaa Hussein Afeef stated that while the whole world aspires to be powered by renewable energy, maintaining the objective to establish such a development is because he believes the new trend can be a successful project.

Afeef stated that so far, initiators of the project, Champaa Brothers, had invested a total of US $80 million into the project which commenced two years ago.

Additionally, Afeef noted that finding the appropriate investors for the project was challenging as it was a difficult and time consuming task.

Huge companies such as ABB, Siemens and another Italian company are known to have been active in the operations of the project.

Afeef stated that while the total cost of installing solar panels in the entire resort is known to have a value of US $10 million, the system has the ability to provide power for the whole resort - even in a situation of continuous rainfall or no sun light for the duration of three days. Afeef added that furthermore, in the circumstance of an error or failure, backup generators are also established to make certain that power is accommodated.

Additionally, Afeef stated that development of the renewable energy-powered resort is a huge achievement as the costs for electricity will decline.

"We are aiming to recover the costs for the solar panels within six to seven years. At present, we are spending about a million dollars on electricity for the resorts. However, we predict that with the introduction of solar panels, this amount will significantly decrease," he said.

Furthermore, he added that the biggest benefit is savings on cost as a result of stopping the use of generators and developing a resort which functions on environmentally-friendly energy sources.
Afeef stated that he hopes to handover the resort to Club Med by the 1st of December 2014, and added that Gasfinolhu, the resort located in Male' atoll near Thulusdhoo, will become operational at the end of January 2015.