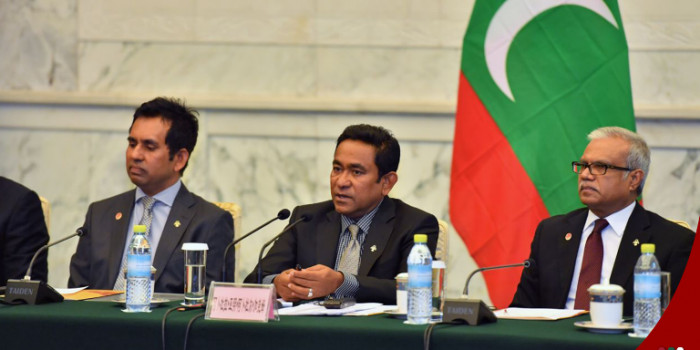 Our doors will always remain open for FDI in Maldives – President Yameen
Our doors will always remain open for FDI in Maldives – President Yameen
Estimated time to read the article : 2 min, 50 secs


Remarking that this was the prime time to invest in the Maldives, President Abdulla Yameen Abdul Gayoom has stated that the Maldives always welcomes foreign direct investments with open doors. The President made this remark at the Business Leaders Forum held this morning, as part of his current State Visit to China.

The President pointed out that despite belief by some that the Maldivian economy was small with limited business prospects, it was not the case. He said that many international investors in the Maldives who know the market well would vouch for the Maldives being a luxury destination famous for visits by high net-worth individuals.

Highlighting the measures being taken by this administration to transform the Maldives' economy, President Yameen underscored the special initiatives of the Government underway, including the development of Hulhumale' Youth City and the development of Special Economic Zones.
In this regard, the President noted that the Foreign Investment Act and the Special Economic Zones Act were in place today, in order to ensure investments were protected. He further welcomed all investments that will assist in the Maldives' economic transformation.

President Yameen also highlighted the contribution and support from China, in implementing the administraiton's transformational plans for the Maldivian economy. He expressed his gratitude on behalf of the Government and people of the Maldives, to President Xi Jinping and Government and the people of China, for their generous support. President Yameen further assured of the Government's commitment to improving the long-standing bilateral relations between the Maldives and China.

As part of President Yameen's current State Visit to China, official talks will be held between the Government of Maldives and the Government of China – and key agreements will be signed with a view to enhance trade, professional and socioeconomic development as well as technological and other collaborations between the two countries. The President will also meet with key leaders of China, and discuss ways to further accelerate socioeconomic ties between the Maldives and China.